.:: Life History of Dr. Chan Shu Kui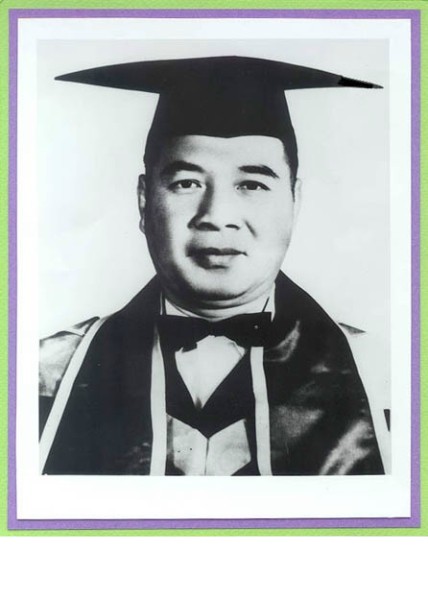 Dr. Chan Shu Kui (1914-1973), alias Chan Chong Sing, was the son of Chan Wai Chow, a salt commisssioner of Guangdong and Guangxi. Dr. Chan, who was intelligent and aspired to do something great at a young age, first studied at the National Sun Yat-sen University and continued his academic pursuits at Lingnan University. After graduation, he went overseas and earned a master's degree at Columbia University. In 1938, he returned to China and became a professor at Fudan University of Chongqing. Then he took up a number of important positions in some provincial governments.
Towards the end of 1940s, Dr. Chan moved to Hong Kong from Guangdong with his father, devoting himself to the fields of business, education and social welfare. Due to the outbreak of the Korean War, he switched from oil trading to property and movie industries. Operating cinemas and serving as the chairman of the film distribution agency, he made significant contribution to the early development of Hong Kong's movie industry. He had the foresight to invest in the stock market and became a prominent figure in his time.
Aware of the importance of education in nurturing the next generation, Dr. Chan founded a number of secondary and primary schools of which he was the school head and/or supervisor himself. His teachings enlightened countless students. In the early 1970s, he bought the campus on Tat Chee Avenue and operated a secondary school there. With good teachers and improved facilities, the school attracted numerous students. Because of his tremendous contribution to the economy and education of Hong Kong, Dr Chan was appointed a member of an education advisory committee by the Hong Kong Government. Furthermore, he was conferred honorary doctoral degrees by a university in the USA and the English Anglican Church.
Dr. Chan stayed conscientious and modest despite his high achievements in business and education. He attached great value to virtues such as courtesy, filial piety and forgiveness. With a kind and tender heart, he contributed generously his money and effort to helping the needy in spite of his busy business and public engagement. He had been the founder or the chairman of some charitable organizations. Under his 20 years of leadership, the North Point Kaifong Association benefited the community greatly, and his building a hall in the district, which was later named after him, provided the community with a nice venue for various activities
Dr Chan passed away in 1973 because of heart attack and his demise was mourned and grieved by his contemporaries. To commemorate his achievements and perpetuate his aspirations, Dr Anita Chan Lai Ling, the former school supervisor, renamed Hong Kong College as Chan Shu Kui Memorial School. In addition, she established Chan's Educational Organisation with the aim of providing quality education for the next generation.